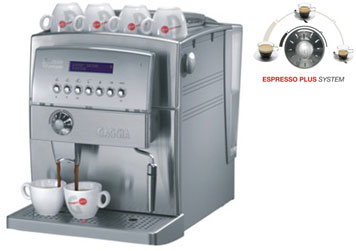 Gaggia Titanium Plus

GAGGIA Titanium PLUS: Gaggia's newest automatic bean to cup machine with E Plus system for extra contolled brewing. With a completely metal body, twin boiler and all the latest technology you can make espresso and cappuccino like an expert by just touching the button.
The machine features: immaculate stainless steel finish, fully automatic functions with LCD programmable control panel, cup-warmer with heating element, removable 1.8l water tank, hot water and steam output, rapid steam, water hardness adjustment, standard or automatic descaling.
The coffee quantity can be adjusted, in addition to the grinder setting; the bean capacity is 250g. The machine has 24 hour clock and features a twin boiler for immediate frothing or steaming without loss of time. Cappuccinotore comes with this machine.

All UK shipments with UK power supply and plug

Construction Metal chassis with titanium grey finish and brushed stainless steel panels
Adjustable Height For Cup
Water Tank Capacity: 2.2 litres
Removable Water Tank: yes
Low Water Level Sensor: yes
Pump Pressure: 15 bar
Number Of Group Heads: 1
Can Use Ground Coffee: yes
Removable Drip Tray: yes
Hot Water Facility: yes
Integrated Grinder: yes
Hopper Material:Plastic
Hopper Capacity: 250g
Grinder Adjustment Positions: 19
Ground Coffee Doser: yes
Cup Warmer: yes
Cup Counter: yes
Digital Display: yes
Adjustable Setting For Water Quantity: yes
Adjustable Setting For Powder Quantity: yes
Adjustable Setting For Water Temp: yes
Programmable Auto On/Off: yes
Auto Cappuccino: yes
Auto Cleaning Function: yes
Auto Descaling Function: yes
Dimensions: (HxWxD) 375x290x440 (in mm)
Weight: 10 kg

International warranty

UK plug on request
Version 220/240 Volt - 50 Hz 1500 Watt available.


Description

Price (net net price no other duties or taxes for shipping within the European European Union) Eu Vat Registered ? Save a further 20% on the published prices !

SPECIAL OFFER until 16 July :

%%product(titaniumplus).Description%%

%%product(titaniumplus).PriceSTR%%