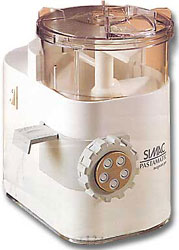 PastaMatic™ 1400

- is the full cycle pasta machine that mixes and kneads the dough for home use.
- is the only pasta machine that truly kneads the dough
- Just place the flour and eggs or water into the bowl and in about 20 minutes have fresh pasta

Features

Easy to close lid with micro switch for safe operation

Simple Controls

Patented kneading blade

Reinforced extruder house and ring nut

Built-in storage area to hold the cord, discs, and measuring cup.


Discs included to make 8 different shapes:
spaghetti, bucatini, tagliatelle, maccheroni, lasagne, biscotti (cookies), fine tagliatella, cappellini.



13 other discs are available and must be purchased separately:
thick spaghetti, chitarra, pizza, filo d'oro, pappardelle, bucatino rigato, penne, breadsticks, ridged shells, country pasta, adjustable sheet, spatzle, gnocchi.
Price per each disc 14 Euro, for details contact us.



Capacity from 350gr to 1,4kg (3-lb of fresh pasta in 20 minutes).

Voltage220 - 240 volt/50hz.

Power 270 watt.

Weight: 7,8 kg (18 lbs).

Dimensions (HxLxD): 310 x 180 x 300 mm (8 x 12 x 12-in).

Availableon white.