Imperia Pasta Machines - The perfect electric pasta machine for your home-made pasta!


9am - 6pm European Time

Dear friends,
I would like to express many thanks for your excellent service.
I received the ice cream machine and it is working very well.
I hope i can buy other items in the future.

paulofernandes@vianw.pt Portugal

JOIN OUR AFFILIATE PROGRAM: We are pleased to announce our new affiliate program: earn 8% commissions on every sale generated with La Gondola, the ultimate Italian products store.

Over the years IMPERIA's product range expanded to include over 40 items all of which, whether they be for restaurants or domestic use, are specifically designed to ensure unsurpassed fresh homemade pasta, Italian style. IMPERIA's products are now sold worldwide.
---
Eu Vat Registered ? Save a further 20% on the published prices !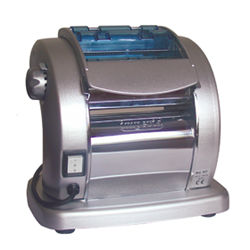 With motor! All-in-one pasta machine!
The non-stick coating guarantees safe and clean pasta. The built in motor allows you to have your own fresh homemade pasta Italian style PRESTO.
In few minutes you'll be able to stretch the dough from thick to thin. Just turn the thickness setting knob and the cut the sheet in Tagliatelle or Fettuccine.
Pasta sheet - width: 6 inches/15 cm
The machine comes with the cutters for tagliatelle or fettuccine (they are incorporated into the machine).
Do you want another type of pasta? Just fix one of the Simplex cutter for Spaghetti 2mm diam. Angel Hair 1,5mm - Tagliatelle 2mm Trenette 4mm Fettuccine 6,5mm - Lasagnette 12mm - Pappardelle 32mm Frilled Reginette 12m Frilled Reginette 44mm, The RavioliMaker attachment in two types: for ravioli 30x30mm and ravioli 50x50mm fits just as well so as the Millegnocchi for Gnocchetti Sardi, Cavatelli or Rigatelli.
Click here to purchase the attachments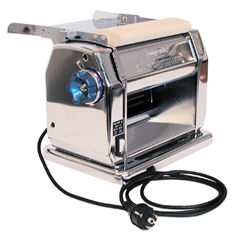 All steel motorized (230 Volts or 110Volts) roller machine for restaurants and professionals, produces up to 12Kg. of pasta in an hour.
Prepares sheets of 9 inches -maximum roller opening of 3/8 in.-adjusting knob with ten numbered thickness settings.Totally built in stainless steel ,low consumption,easy to use ,always ready for use and no maintenance needed.
Available on request extra five Simplex cutters: Spaghetti 2mm ,Angel Hair 1,5mm - Tagliatelle 2mm Linguine 4mm Fettuccine 6,5mm and Lasagnette 12mm and a dough mixer (1Kg in five minutes).
Electrical version ,Electronic version,Manual Version :always sturdy practical and versatile . Spare Parts available on request.

Click here to purchase the attachments
Electrical Version and Electronic version available on 220-240V-50HZ OR 110-120V-60HZ
Manual Version : Price on Request .
Eu Vat Registered ? Save a further 20% on the published prices !
---